Sports & Events Management
The Middle East is very much considered to be the prime emerging sports market and continues to grow and offer scope for development. This creates opportunities for domestic and international companies whether involved directly in sporting activities or the broader framework of associated services.
This dynamic regional growth, exemplified by successful annual Formula 1TM races in each of Abu Dhabi and Bahrain as well as world class golf, tennis, swimming, horseracing and rugby tournaments throughout the region has combined with the awarding of the FIFA 2022 World Cup to Qatar to help revolutionise the sports industry in the GCC region and create an appetite for more sporting events. This potential across the Middle East brings vast opportunities and challenges and will most certainly act as a catalyst for sustainable development.
Sports Tourism, as well as numerous other ancillary markets, is also on the increase across the region. Given the high level of government investment in the sports industry and the enviable record of success that has been demonstrated in a short time, the future is now.
Al Tamimi & Company is the first Middle East Law firm to operate a dedicated Sports & Events Management sector derived from client demand.  We provide a comprehensive range of legal services throughout the Middle East region, covering all areas relevant to the Sports and Events industry.
Al Tamimi & Company has the necessary skills and experience to advise on the following:
Brand Protection and Exploitation: merchandising and other licensing arrangements; merchandise distribution and sale arrangements; anti-ambush marketing and anti-counterfeiting strategies and enforcement; trademark advice and registration; copyright protection and exploitation.
All aspects of Sport, Team, Player and Event Sponsorship:acting for rights holders, event managers, athletes and organisations who commit significant resources to this crucial aspect of marketing, including advising on regional advertising guidelines and restrictions.
Broadcast Agreements:television, radio, mobile phone and online content production, distribution, management and exploitation, from the perspective of rights holders, broadcasters and broadcast partners.
Sports Event and Venue Management:advising on all legal aspects of the execution and commercial optimisation of major events from ticketing, stadium hire and media relations through to health, safety, insurance and environmental issues; media access arrangements as well as all aspects of regulatory interface for mass public attendance events and advising on facility sustainability initiatives and developing profitability strategies to generate additional revenues, before and after main events.
Stakeholder Integration:player contracts, relations with teams, sports clubs, player associations and governing bodies; disciplinary issues; doping; the relationship between players' and team sponsors; players' use of social media and other forms of other "new media" communications.
Alternative Dispute Resolutions: representing sporting bodies, players and other sports related clients before the national sports dispute resolution bodies including the Disciplinary and the Appeal Committees as well as the international sports dispute resolution bodies including FIFA Dispute Resolution Chamber and the Court of Arbitration for Sport (CAS).
Law Update Sports & Events Management Focus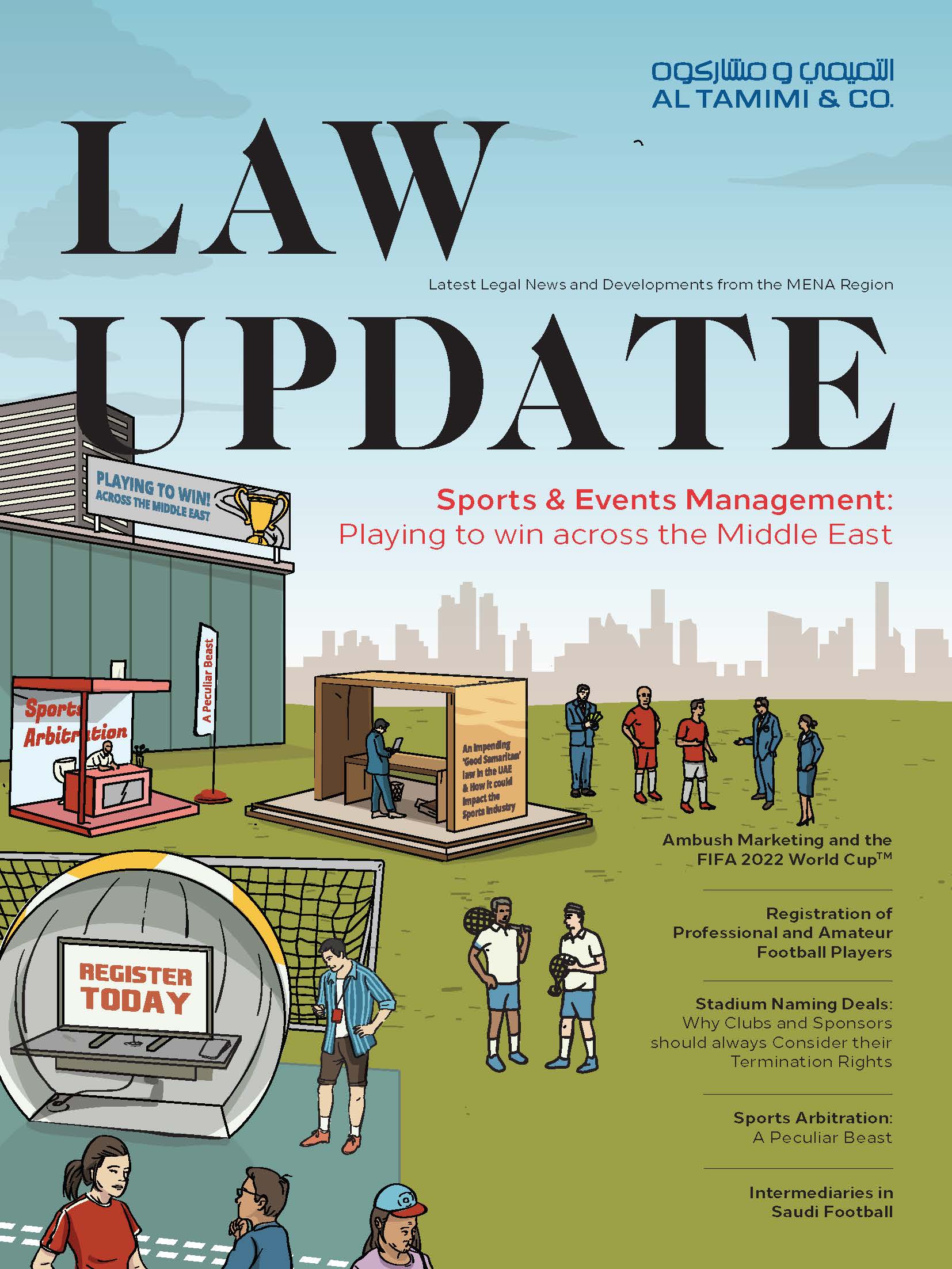 Meet the Team