New DIFC Employment Law: What are the key changes?
July 28, 2019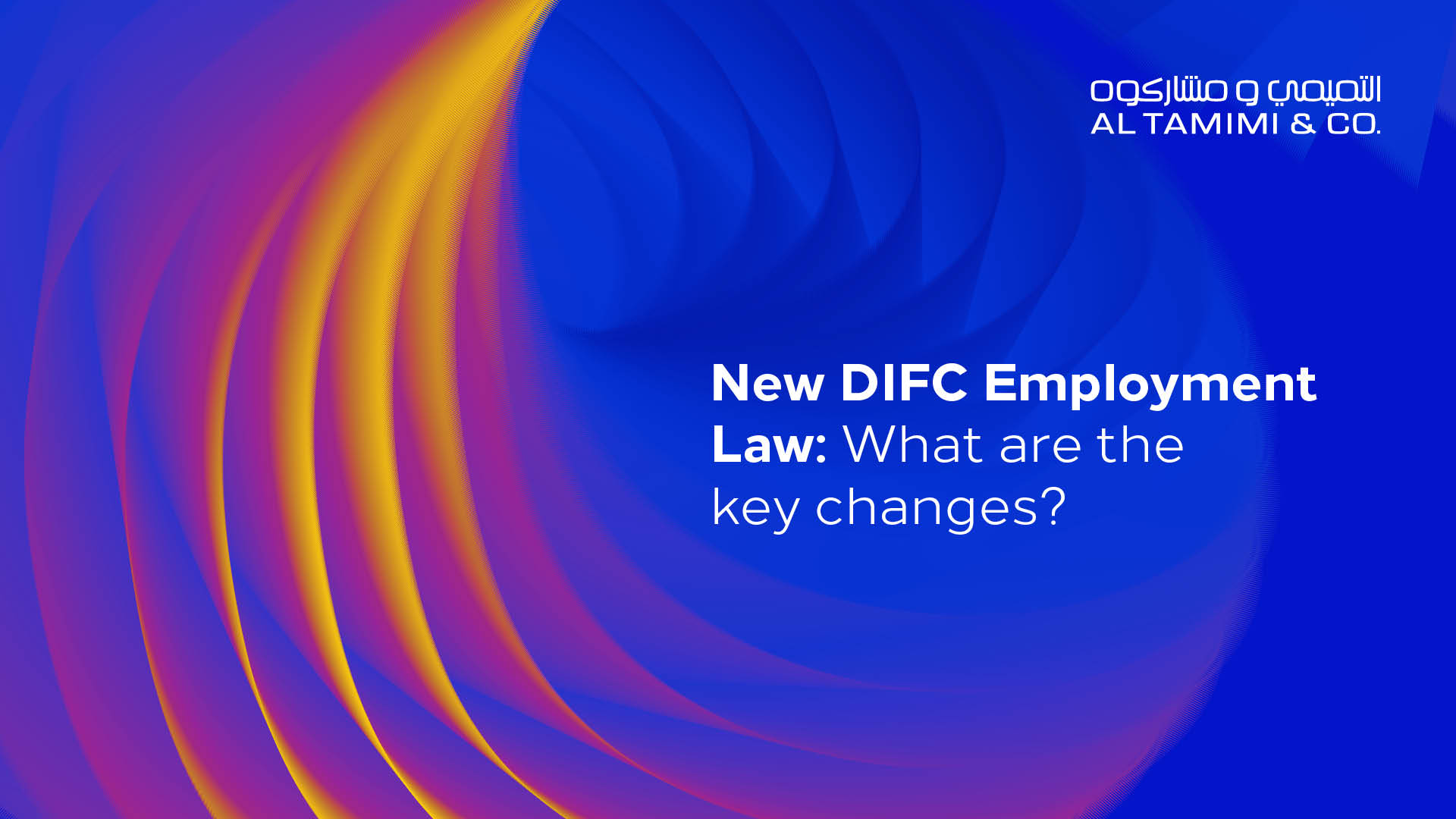 Gordon Barr, Partner – Employment & Incentives, and Jacques John Visser, Chief Legal Officer at DIFC, discuss critical changes in DIFC Employment Law coming into effect this August.
The Dubai International Financial Centre Authority ("DIFCA") has recently drafted a new DIFC Employment Law (the "Proposed Law"), which shall replace DIFC's Employment Law (Law No. 4 of 2005), as amended by Law No. 3 of 2012 (the "Current Law") in its' entirety. The Proposed Law is out for consultation and the DIFC has invited any comments by 22 March 2018. Thereafter, subject any amendments, the Proposed Law will be published and will come into force.
The Proposed Law sets out several key changes:
1. PART-TIME EMPLOYEES
Current Law: Part time employees are entitled to the same benefits and leaves as full time employees.
Proposed Law: Part time employees will be entitled to leave entitlements on a pro-rated basis.
2. ARTICLE 18 PENALTY
Current Law: Employers are required to pay all wages and termination payouts to an employee within 14 days of the termination of employment. If an employer fails to pay within 14 days, the employer is required to pay the employee a penalty of the last daily wage for each day delayed. This Article 18 penalty has proven to be contentious and has been the subject of various DIFC Court decisions.
Proposed Law: Retains an obligation to pay certain sums to the employee within 14 days of the termination of employment. However, the penalty payment is no longer automatic and the following applies:
if the outstanding amount to be paid to the employee is less than 5% of the full amount due, no penalty shall apply;
the penalty shall be capped at 6 months' wages; and
the DIFC Courts may waive or reduce the penalty in unreasonable circumstances.
3. SICK LEAVE PAY
Current Law: Employees are entitled to 60 working days of sick leave with full pay.
Proposed Law: Sick leave remains at 60 days but sick pay will be calculated as follows:
The first 10 working days of sick leave: Full pay
The next 20 working days of sick leave: Half pay
Any additional working days of sick leave: Unpaid
4. DISCRIMINATION
Current Law: Protected characteristics for discrimination include sex, marital status, race, nationality, religion and mental or physical disability. No provision for a remedy in discrimination claims.
Proposed Law: Adds pregnancy and age to the above list of protected characteristics for discrimination purposes. Importantly, it also introduces a remedy for discrimination claims and provides that compensation can be sought. The compensation payable in respect of a discrimination claim is capped at one years' wages (or two years' wages for repeat offenders). In addition, the concept of a victimization claim is included.
5. TERMINATION FOR CAUSE & CONSTRUCTIVE DISMISSAL
Current Law: Both, employers and employees are entitled to terminate for cause where the conduct of the other party warrants termination and where it passes the test of reasonableness.
Proposed Law: Introduces an expanded test to determine whether termination for cause is reasonable, including:
whether or not the employer / employee acted reasonably or unreasonably, given the circumstances for termination; and
in accordance with equity and in consideration of the substantial merits of the case.
Importantly, the Proposed Law contains provision for a compensation claim of up to one years' wage if an employee terminates for 'cause'. Thus the Proposed Law introduces constructive dismissal as a concept.
There are 11 other important changes, click the link below to read more: